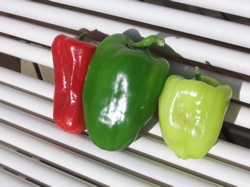 Before two years ago, I had no idea that you could grow peppers in Alberta. I figured they were exclusively a Mexican food or something grown down in Chile. But, lo and behold, Alberta actually grows acres and acres of the things! Who knew? So last spring I tried to grow some seedlings I bought at the grocery store. They were somewhat successful, yielding a handful of hot, skinny yellow peppers.
If the hot peppers grew ok, could the large sweet bell peppers grow here as well? Why not give it a try. So this spring I decided to try my hand at growing some sweet bell peppers from seed.
The three varieties that I decided to try were the Early Prolific, Fat 'N' Sassy, and Blushing Beauty. And I must say, I was pleasantly surprised at how well they grew.