Tag Archives:
lettuce
I had a comment today on my post regarding square-foot gardens asking about some pictures of how my block planting had turned out this year. I had taken the square foot garden method and applied it to the traditional long-row garden style. I planted carrots, onions, lettuce, beats, dill, and a few marigolds to try to keep the bugs off the dill (which didn't work – they flowered too late I think). But the block planting idea worked great. I think I'll do the same thing next year. The lettuce should have been thinned out big time, but other than that, I'd do it all over again the same way. Here's what it looked like:
This was in early summer. I should have been thinning my lettuce right about now.
This was about mid-August. You can see where the deer pulled out all of my beets just behind the onions.
So do I recommend this method? Yes. For any plant that doesn't take up a lot of horizontal space, this method works great.
While traveling through southern California & Arizona over Christmas, I saw some super-sized gardens. Having grown up in central Alberta, I'm used to seeing large fields of hay or wavy seas of wheat. On occasion I've even seen some fields of corn, peas, and even strawberries. But never have I seen acres upon acres of lettuce, onions, and broccoli.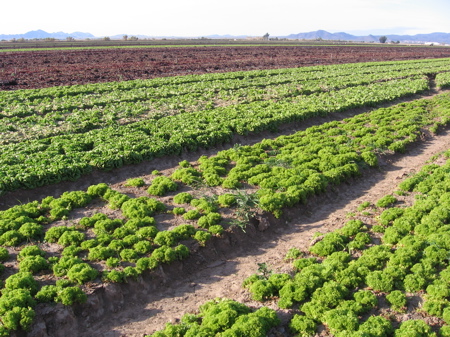 It was quite a sight to see – rows upon rows of lettuce. In Arizona, lettuce is a common winter crop. One local farmer I talked to said their family grew watermelons and corn in the warmer months and lettuce during the winter.