Some time ago I was introduced to Anna from northernhomestead.com – a fellow gardening enthusiast from central Alberta. She writes a very interesting blog – and has a most interesting geodome greenhouse. If you've never seen a geodome greenhouse before – you've got to check this out!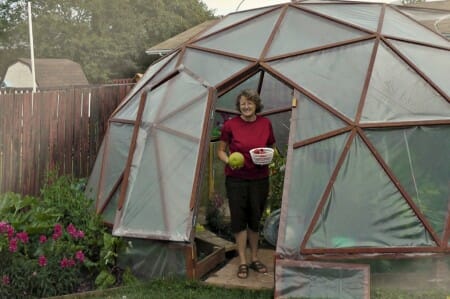 Pretty cool, huh? I recently interviewed Anna (via email) about her garden & her greenhouse, so I thought I'd share our conversation with all of you. It went kinda like this:
Dave: First of all, tell me a little bit about yourself.
Anna: We are Jakob and Anna, passionate suburban home gardeners in Alberta, Canada. We grow lots and lots of food in our square foot garden, in the greenhouse, and at our friend's farm. Truth is we do not even own a single square foot of land, but we do what we can and call it Northern Home Garden.
Dave: What's the most unique feature of your garden?
Anna: It sure is our Geodome Greenhouse.
Dave: Why did you choose the geodome style for your greenhouse?
When we started to plan to build a greenhouse, our expectations were very high. In an northern garden we are dealing with frost, nasty winds and hail and also loads of snow in the winter. Our days in spring and fall are short of direct sunlight, so we need to catch every sunbeam we can. Plus, we live in town and the greenhouse in our small back yard needed to be somehow catchy. 😉 In our research we came across the GeoDome greenhouse:
Very unique, lightweight structure
Stable in wind and under snow
Optimal light absorption
Has the most growing ground space
A unique hang-out place
An eye catcher
The GeoDome greenhouse is just what we were looking for.
Dave: How difficult/expensive was it to build?
The most difficult part was to figure out how to build a Geodome, what kind of joints to use, what frequency is right for the size. We looked at dozens of How-To instructions and even bought an E-Book (with very little value). But all together it helped to build the GeoDome we have and love.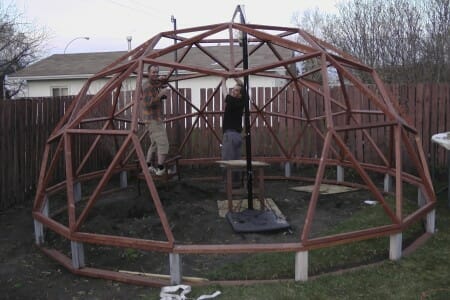 For the structure we used untreated spruce lumber, and stained it before assembling. For covering we used greenhouse plastic that was given to us from an commercial greenhouse. So the expenses were not very high, about $200, and it took us about a month to build it. All in all a very good experience, something we would recommend. We do share our experiences 'How to build a GeoDome greenhouse' here: https://northernhomestead.com/how-to-build-a-geodome-greenhouse/
Dave: Do you have any future projects in mind?
Anna: We would really love to own some land to build up a real homestead, with trees, and berries and some animals (dreaming aloud).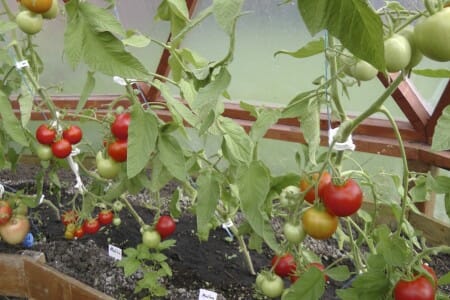 Got a unique or unusual greenhouse or garden? I'd love to hear about it. Go to my contact page and tell me all about it!