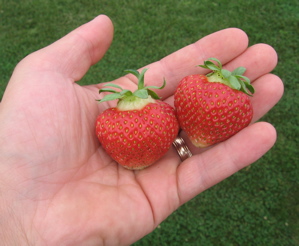 This spring I expanded my strawberry patch. In the past all I had grown was the popular June-bearing Kent strawberry, but this year I wanted to try something different. I ordered my strawberry plants from T & T Seeds (which I highly recommend) and received three varieties of strawberries – Kent, Ogallala, and Fort Laramie. Since I had only planted them this spring, I didn't expect much in the way of produce until next year. But the Fort Laramie surprised me.
By early August the ever-bearing Fort Laramie strawberries were producing big, red berries. At first there were only a few, but by August 20th, they were producing more in their first year than my Kent strawberries had produced in their second year! I was truly impressed. And they kept producing more and more until the heavy frosts came in and spoiled their fun in late September.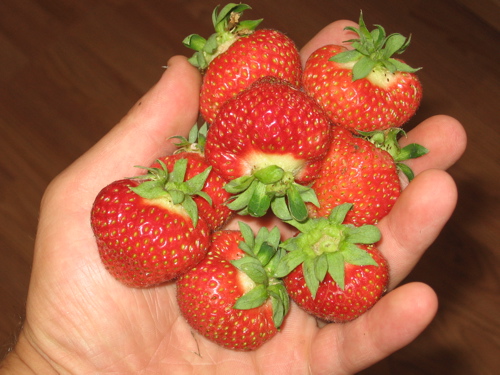 The berries were great to eat fresh, or put on ice-cream. My two year old daughter had no complaints either way! In fact, she liked them so much, she'd even pick them well before they were ripe! I can certainly say without a doubt that I will continue to grow these beautiful strawberries.
I give the Fort Laramie Strawberries a solid 5 out of 5.