For my family, and I imagine many other North Americans, potatoes are the most common food eaten in our home. Whether it's mashed, baked or boiled, or made into french fries, hashbrowns or chips, we eat potatoes almost daily. It's no wonder that nearly every vegetable garden has at least a few hills of those wonderful, all-purpose tubers. My complaint comes when you dig up your spuds in the fall, and they're covered in ugly, brown scabs.
In 2006 I grew the scabbiest potatoes I had ever seen. They were covered with about a 1/4 inch of scab from top to bottom. I couldn't even use a regular peeler to peel them – I had to cut the skin off with a knife. They were terrible. The inside still tasted fine, but who wants to deal with 1/4 inch of scab?
So that winter I searched the internet and asked the advice of more experienced gardeners – namely my parents – and got some really easy to follow suggestions. Then, following that advice in 2007, I grew the biggest, scab-free potatoes I had ever grown. Want to know how I did it? Here's what you need to do:
#1. Choose A Scab-Resistant Variety of Potato
Some potato varieties are more resistant to scab than others. In Alberta, some of the common varieties that are most resistant to scab are Cheiftan, Norland, Viking, Gold Rush, and Russet Burbank. Two common types that are susceptible to scab are Red Pontiac and Yukon Gold.
#2. Rotate Your Crops Year By Year
This is a good practice for all of your vegetables. This may not be much help in a plot that consistently has problems with scab, but planting in the same location year after year will certainly encourage it.
#3. Keep Your Potatoes Well Watered Once The Plants Have Flowered
While your potato plants are flowering, the tubers are developing. Previously, I had never watered my vegetable garden unless it had been very dry for a long time. In 2007, I set my water sprinkler in the garden and watered my potatoes once every three days. I believe this was the biggest contributing factor to the large, scab-free potatoes that I enjoyed that year.
Give it these tips a try and let me know what happens!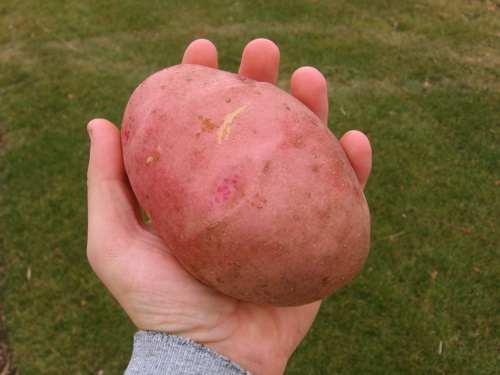 This is a Viking variety potato grown in 2007
(For another photo, see "What's the Deal with this Blog?")