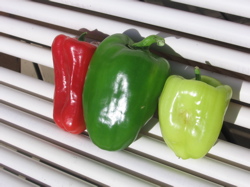 Before two years ago, I had no idea that you could grow peppers in Alberta. I figured they were exclusively a Mexican food or something grown down in Chile. But, lo and behold, Alberta actually grows acres and acres of the things! Who knew? So last spring I tried to grow some seedlings I bought at the grocery store. They were somewhat successful, yielding a handful of hot, skinny yellow peppers.
If the hot peppers grew ok, could the large sweet bell peppers grow here as well? Why not give it a try. So this spring I decided to try my hand at growing some sweet bell peppers from seed.
The three varieties that I decided to try were the Early Prolific, Fat 'N' Sassy, and Blushing Beauty. And I must say, I was pleasantly surprised at how well they grew.
I started them in my office (since I don't have any better indoor growing area) under fluorescent lights that I had bought for that purpose. On April 29th, after several weeks of growing indoors, I transfered them outside to my high tunnel coldframe. I think that was a little too this year – both my peppers and my tomatoes were stunted severally due to the late coldness this spring.
But by and by they grew, and before long there were several large, beautiful bell peppers waiting to be picked. They had a relatively short growing season, but still managed to average about four fruit per plant.
Of the three varieties, I think I liked the Early Prolific the best, though the Fat 'N' Sassy weren't far off. Blushing Beauty was a little small for my liking – but the flavor for all three was great. Next year, I think I may replace Blushing Beauty with Super Heavyweight. But that's another post for another day.
If you've never tried growing bell peppers, give it a try. They're certainly no more difficult than tomatoes, and they're sure to taste way better than anything you buy in the grocery store.