It's almost Spring! Yes, there may be a foot of snow on the ground still. Yes, it may still be -10ºC. Yes, the ground may still be frozen solid. But Spring is on the way. Well, it may be a little while yet – at least, here in Alberta. But down in Texas Spring is just around the corner.
In fact, Big Jim just sent me a few pictures of the hoop-style greenhouse that He just built. Since many of you may be thinking about building your own greenhouse this spring, I thought I'd share Big Jim's pictures and tell you about some of the modifications he made to my Inexpensive Hoop-Frame PVC Pipe Greenhouse. So first the pictures…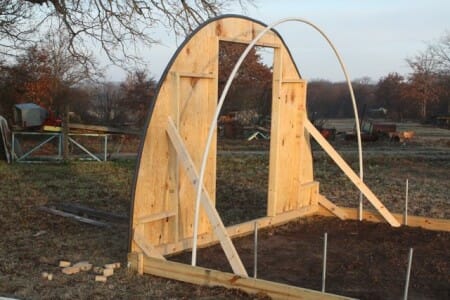 The first thing you might notice is that Big Jim has added some braces to his end walls. This is a great idea, since the ends tend to be pulled in by the weight of snow in the winter.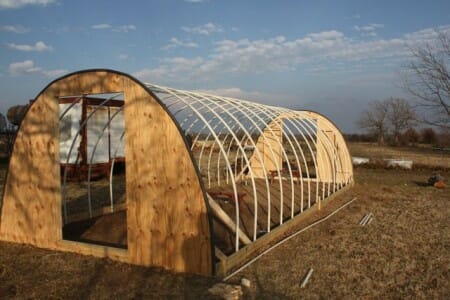 He also added some height to his walls. He's a tall guy, so he's used PVC pipes that were 22′ long instead of just 20′. Because of the extra length, He also used 1″ pipe instead of 1/2″ pipe to give it some more strength. Another change He made was to use electrical conduit clamps to attach the pipes to the base, as opposed to the strapping.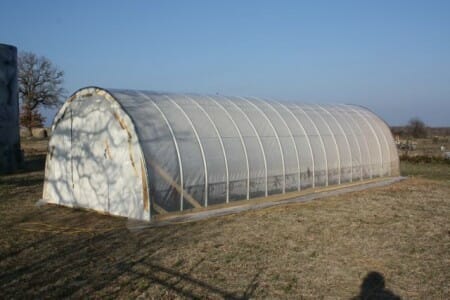 So this is what it looks like all said and done. He plans to grow tomatoes, peppers, cucumbers, some flowers and hanging basket plants, and he even wants to try some hydroponics. Perhaps I'll get a few more pics down the road and give you an update to how things are growing.
Anyway, hopefully that'll inspire you  in your own greenhouse building endeavors. I think I may even integrate a few of his changes in my own greenhouse. But all in good time – I think I'll let the ground thaw first.