Recently, I've had a few requests about exactly what to plant in these square foot gardens that I've written about. Can you plant potatoes? How about carrots & peas? Or even tomatoes? Well, yes, yes, and yes. But…
In order to grow certain fruits and veggies in your square foot garden, you might have to plan ahead. For example, if you want to plant carrots, you need to make your containers a little bit deeper – maybe 8 to 12 inches deep. For vines like cucumbers and tomatoes, you'll need some kind of support system like a trellis or stakes so that they can grow UP not OUT. Then there are other things that you CAN grow in SFGs, but they really work better in a traditional garden plot. Things like peas or potatoes take up a lot of space, and are best planted in long rows (peas) or large blocks (potatoes).
So with those thoughts in mind as you get ready to plant your SFGs this spring, here is my square foot garden planting plan from a couple of years ago – just to give you some ideas!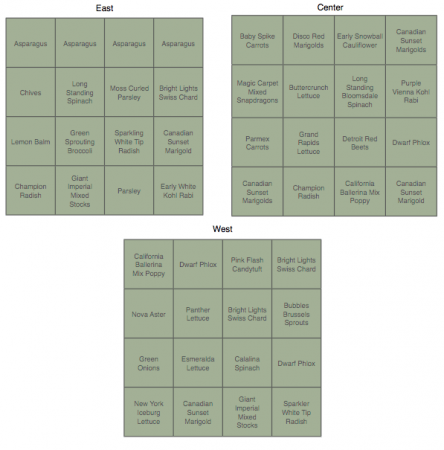 What will you be planting this year?