Tag Archives:
plan
Recently, I've had a few requests about exactly what to plant in these square foot gardens that I've written about. Can you plant potatoes? How about carrots & peas? Or even tomatoes? Well, yes, yes, and yes. But…
In order to grow certain fruits and veggies in your square foot garden, you might have to plan ahead. For example, if you want to plant carrots, you need to make your containers a little bit deeper – maybe 8 to 12 inches deep. For vines like cucumbers and tomatoes, you'll need some kind of support system like a trellis or stakes so that they can grow UP not OUT. Then there are other things that you CAN grow in SFGs, but they really work better in a traditional garden plot. Things like peas or potatoes take up a lot of space, and are best planted in long rows (peas) or large blocks (potatoes).
So with those thoughts in mind as you get ready to plant your SFGs this spring, here is my square foot garden planting plan from a couple of years ago – just to give you some ideas!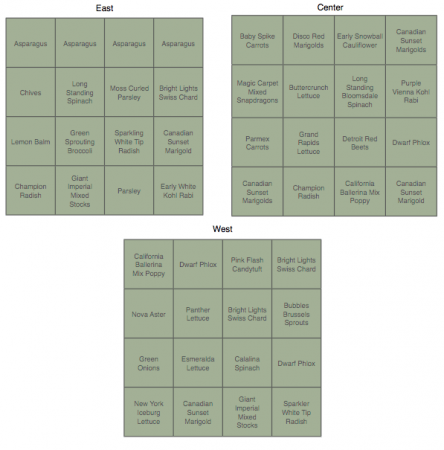 What will you be planting this year?
Last summer I bought a new house – as I've eluded to in some of my recent comments (and as evidenced my my lack of new posts since last August). The house had just been moved in and placed on a new basement, so there had been no landscaping done after the excavation and most of the back yard was still in it's undisturbed state (as it had been for the past… 50 – 100 years?) There were a few rotting trees that were eager to fall on the power lines, so we decided it best to remove them even though it left us with a pretty bare yard.
We wanted to live in the house for a while before we made landscaping plans so we would know what exactly we wanted, so we didn't do much in the way of landscaping last fall, except for removing the previously mentioned trees. Of course, with no garden I really didn't have much to write about, so that's why I've been a little absent (though I've enjoyed replying to your comments on my other articles).
But here's the good news… I'm back! Over the winter I drew up a concept plan for our yard (seen a little further on in this article) and we are now working to making it all happen. Hopefully, as I keep you updated on my progress, you'll see some dramatic changes. So to fully appreciate the before and after, here are a couple of before pictures:
This is in April, scraping back the black dirt… (Looking out from my back steps)
Then this is earlier today… (looking towards the house from the back alley)
So it's a pretty empty slate, but with lots of possibilities. Here's what I plan to do with it:
I'm going to be a bit late planting in the garden this year, but that & the greenhouse are my #1 priority. (Hey, you might get another tutorial on how to build a greenhouse.) But that's for another day!