Yesterday, April 7, 2008 , I planted my first seeds of the year. If you've never started your own plants from seed before, you've got to try it – it's amazingly simple! Here's what I did.
First I collected my supplies:
A plastic starter tray complete with transplanting inserts (72 cells)
Some potting soil
Plastic labels (plastic margarine container lids cut into strips)
And yes, seeds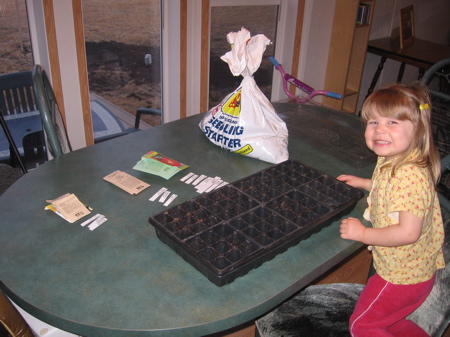 Then I filled the cells with the potting soil and lightly patted them down. Each cell then received a finger poke in the center. My daughter and I then dropped two seeds in each little hole. (The weaker of the two seedlings will get pinched out after they've sprouted.)
Here's what I planted:
Peppers
Blushing Beauty
Early Prolific
Fat 'N' Sassy
Tomatoes
Oxheart
T & T Monster
Brandywine
Betterboy
Sugary
Sweet Baby Girl
Sweet Cluster
Cucumbers
Summer Dance
Improved Long Green
National Pickling
Diva
Watermelons
Sweet Beauty
New Queen
Canada Early
Of course, I wanted to plant a few more varieties, but I was slow to get my seed order in. So I still wait for Lemon Boy and Big Beef tomatoes, Jade Star and Sweet Favorite watermelons, and Atlantic Giant pumpkins.
Then I covered up my little seeds with soil, dampened the soil with water from a spray bottle on 'mist' setting, placed a clear plastic lids on the tray, and placed them all under two florescent lights I had set up. (That gives me four bulbs/tubes set about six inches above the soil.)
So now we wait. I only started planting my seedlings indoors last year (as opposed to directly sowing them in the ground), so I'm still working on perfecting the art. Last year a lot of plants were leggy, but I think I've figured out the reasons why – but that's for another post.
As for now, my question for you is: When do you start your seedlings? Lemme know!
Update: April 12, 2008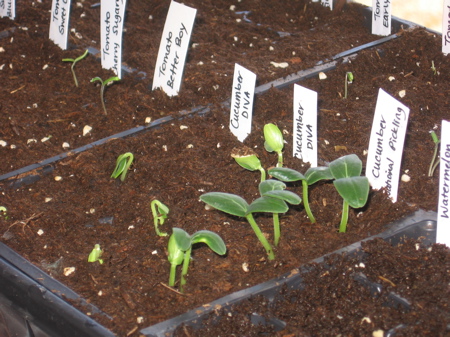 Here's what things look like after five days. Several cucumbers are a solid inch tall already, the tomatoes have just started to appear (you can see them in the background, and a few watermelons have popped out of the dirt. I'm always amazed at how fast these things sprout!
Update: April 21, 2008
I got my other seeds (see above) shortly after my last update. Here's a couple of pictures of what everything looks like now.
Peppers in the top left-hand corner, tomatoes center back and center front left, cucumber top right and center right, watermelons outside front.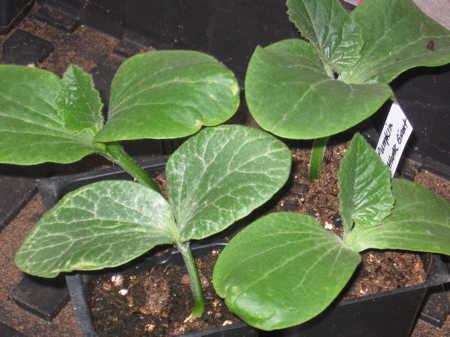 These are the Giant Pumpkins – started about a week later than most of the above seedlings, but are huge!