After my grapes went through their first winter, I wasn't sure they had survived. Well, after my fruit trees had all budded out and leaves were appearing, my grapes still hadn't shown any signs of life. I began to suspect the Alberta winter had killed them.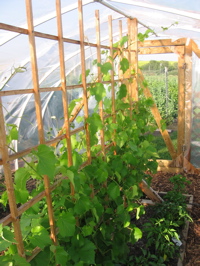 However, eventually, a couple of the stems on my Valiant grapevine began to sprout out some leaves. Then along came my Prairie Star not long after. But my Kay Gray didn't seem like it had any life at all. I was just about to uproot the lifeless stick when a little bud appeared just at the base of the plant.
At the end of the day, all three grapevines made a full recovery, but at least 80% of last year's growth was winter killed. Because of that, there was no fruit to be had that year.
So let me share with you some of the lesson's I've learned.
What Didn't Work
Since my grapes were inside a cold frame, I thought that protection from the wind would help protect the plant through the winter. In retrospect, this was probably a mistake for two reasons.
The plant had no protection from the severely cold temperatures (even without the wind there were days as cold as -35 degrees Celsius.) The coldframe kept the layers of insulation snow from doing any insulating.
The greenhouse would warm up to plus temperatures in the sun, only to drop below freezing again at night. Plants don't enjoy that.
What I've Done Now
This year I've tried something different. After the grapevines had lost all their leaves, I dismantled the greenhouse (since I'm building a new one this spring) and pruned the vines.
Once the grapes had been pruned (and some strawberries transplanted around the base – though that isn't important to this discussion), I carefully laid down the grapevines on the ground. Then, after removing the trellis, I covered the whole lot in some old hay. It looks deeper than it would need to be because some the branches were a little stiff to try to lay flat without breaking them, so I stuffed straw underneath and over top.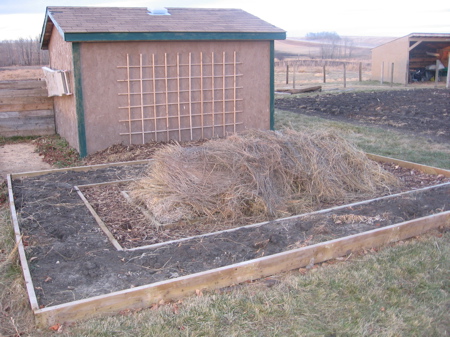 One of my concerns at first was whether or not the wind would blow the hay away. But here it is in mid January and we've had some good winds blow through (70 – 90 kms per hour last week) and the pile is still there – not all over my driveway.
Once spring rolls around, I'll peel back the hay (use it for mulch elsewhere) and see if my theories worked.
If you've had any experience in this area, I'd love to hear from you. What have you done? How has it worked? Lemme know!