This year I tried something new. I had heard rumors of other people doing it, but I didn't know of anyone around here trying it.
So this spring, when I planted my potatoes, I didn't plant them. Instead, I just dropped 'em on the ground in a somewhat straight row. No digging. No shovel involvement whatsoever. Kinda like this…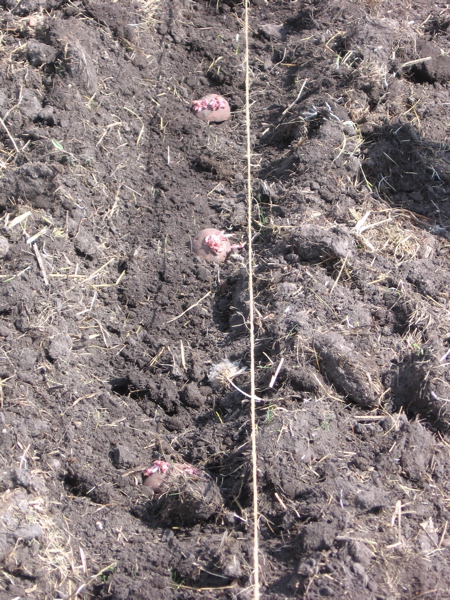 Then, after I had them all layed out, I covered them all with about eight inches of straw, like this…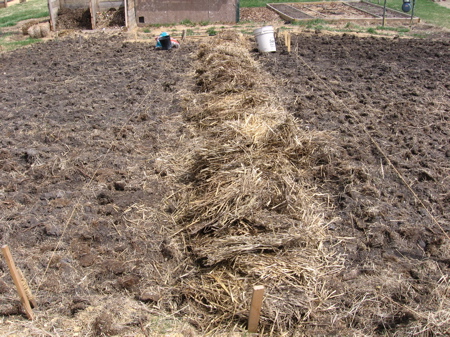 Then I waited. And waited. And now, about a month later, they look like this…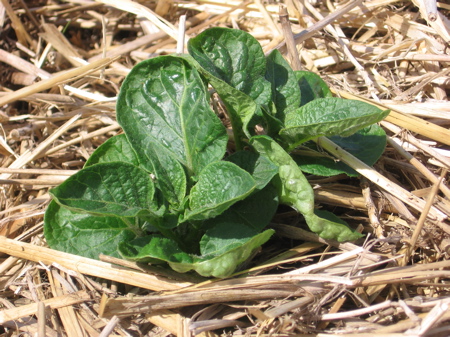 So what do I hope to gain by growing potatoes in straw like this? Well, two things actually.
#1. Less weeding
Thus far in the month that the potatoes and the weeds have had to grow, I've only had to pull out about five thistles that have popped through. These have been extra easy to remove because the root goes through the straw and is easily pulled out. Plus, no prickles under the straw either.
#2. Bigger Yield
Last year when I regularly watered my potatoes from the time they flowered until the end, I got the biggest potatoes I had ever grown. So the theory goes, if the potatoes are mulched, the soil won't dry out nearly as fast. Thus even if I don't water regularly, my yield will be increased because I won't lose my water to evaporation. But that part's still just a theory – I'll have the proof one way or the other this fall. So stay tuned!
Update: June 22, 2008
And lest I forget…
#3. Easier Harvest
Rake back the straw, and there are all your plump, CLEAN potatoes – what could be easier?
Update: July 16, 2008
Check on the progress of these straw-grown potatoes…