Yesterday I experienced the joy of my first u-pick of the season! I had been anxiously waiting for strawberries, and my poor little strawberry patch was simply to small to keep up with my appetite. That's why my little girl and I ventured out west of Bowden to Red Lodge U-pick.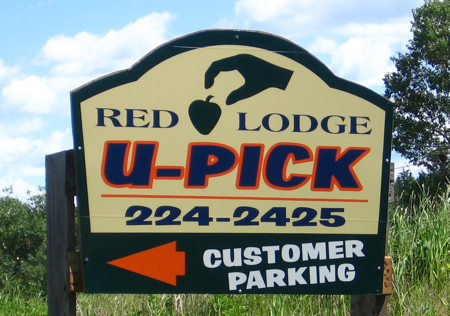 My Experience
The very first thing I noticed was good signage. Between the highway and the farm there must have been at least four signs – the first on the highway 6 km before the range road. There's nothing like clear instructions to make a u-pick day more enjoyable.
Upon arrival, we parked our car (in the clearly marked parking area) and were warmly greeted by Gary Thorpe, the owner/operator of Red Lodge U-pick. Gary gave us a basket and took us out to where the ripe strawberries were.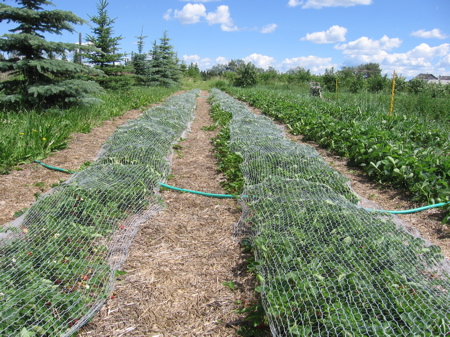 Gary had nets over the ripe rows to keep the birds from pecking holes in all his berries. (And it's a good thing too – any unprotected strawberries at my house have been pecked up.) You might think it would be a hassle to have a net over the berries, but the nets were easy to pull aside as we picked.
The plants were covered in berries and it was very easy to fill our basket quite quickly. The strawberries were juicy and very tasty – so much better than anything you buy in a grocery store! My daughter had a great time picking the berries (and an even better time eating them on the way home!)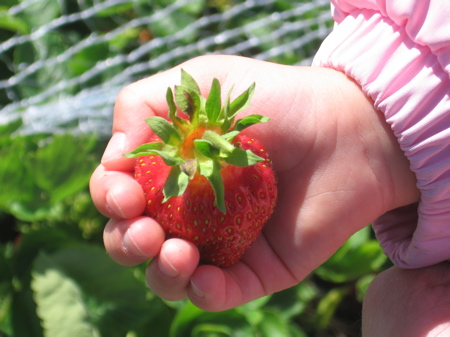 When we had filled out basket, we returned to the farm entrance and my daughter pressed the 'the red button' to page Gary. He appeared from another part of the farm and weighed us out. When all was said and done, we had a basket of strawberries weighing just under 4 lbs. So at $2.55 per lb. we paid our $10 and left with a large basket of strawberries and a very enjoyable experience in our memories.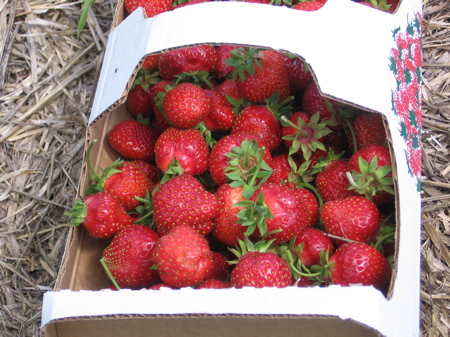 A Final Word
Over the past couple of years I've been to the Red Lodge U-pick several times now. And I keep going back because I really enjoy the experience. It might not be the largest u-pick in the area, or the fanciest – it might not even be the cheapest. But in my experience, it's certainly one of the friendliest. And for my family, that's an extremely valuable asset.
Care to visit Red Lodge U-pick?
Here's what you need to know:
Location:
Go 3 km west of Red Lodge Provincial Park (or 18 km west of Bowden on highway 587) to range road 31, turn south and go 3 km to the end of the road, turn east and go just 1/3 of a km to the farm. (Just follow the signs – its easy!)
Fruit:
Strawberries, raspberries, and cherries (and Gary is always experimenting with more)
Facilities:
There are bathroom facilities available (though I must admit I didn't personally check them out).
Contact Info
Updated August 6, 2009
Red Lodge U-pick now has website – www.redlodgeupick.com, and you can get the latest information by calling (403) 224-2425.
Updated July 26, 2018
Gary no longer has strawberries, but he specializes in haskaps, cherries, and raspberries!