This week I experienced my first real grape harvest. Sure, I'd had managed to grow a few small clusters before – just enough to get a taste. But this year was the first year that I've been able to grow enough grapes to eat all I wanted fresh, plus harvest enough to make up some delicious grape jelly for the winter.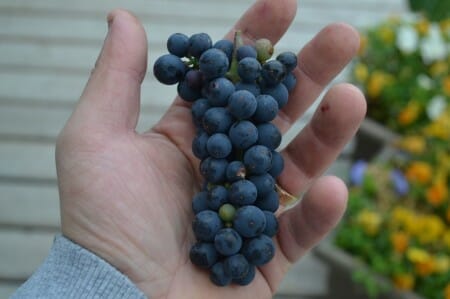 I have four different varieties growing in my yard here in central Alberta, but the two varieties that are mature enough to produce are my Valiant Grapes, and my Marechael Foch Grapes. The valiant grapes are larger than the marechael grapes (though still smaller than what you might find in the grocery store) and are packed with flavour! In fact, they are very similar in flavour to the Concord grapes that you buy in the store.
I have them growing on the south side of my garage on a trellis with my Kiwis. (Yes, you heard right… with MY KIWIS.) I've found this location to work great for three reasons!