Today is certainly a sad day. After much work in building my A-frame greenhouse and covering it with plastic, a gusty afternoon storm has ripped my plastic in pieces. I'm afraid the six mil. plastic simply wasn't strong enough. As the wind pushed against the plastic, the plastic simply stretched to the breaking point.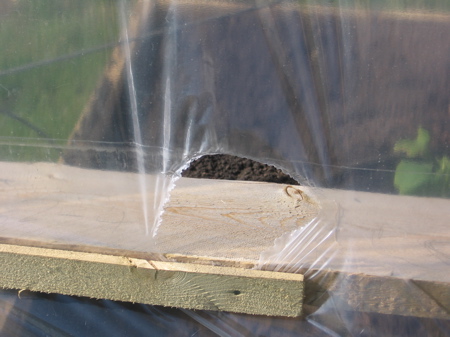 Eventually, one of the holes along the northwest corner tore right off, and the wind ripped the plastic right down the middle of the north side.
So I'm a little disappointed. Even if I could patch it back together, the plastic is just too thin to withstand the winds. So I may be greenhouseless this year.
But perhaps you can help. If this blog has been a benefit to you, would you consider sending a donation to help cover the cost of new greenhouse plastic? The long-lasting woven poly that I would like to put on my greenhouse will cost about $500. If I can raise that much money in the next two weeks, I'll be able to order it and hopefully get it up before the hail season begins. If more than $500 comes in, all extra money will go towards a local kids camp. Just click the flower below to help keep my greenhouse growing!
Update 2009: I've learned my lesson and got the good plastic. Check out my newest greenhouse! It's made it through some major wind already and is looking good!