With spring not all that far away, folks are browsing the seed catalogs and are starting to put together their seed orders for this spring. And of course, once compiled, these lists make their way onto the internet for our viewing pleasure. So where's my list?
Well, instead of a plain ol' list, I thought I'd show you the full meal deal. You see, I have tendency to be way too organized and since I'm quite adapt with a computer, I just so happen to have a full color diagram of everything I plan to plant and where I'm going to plant it. Care to take a gander? Then here goes…
Oh, by the way, click the image to download a full size .pdf file to study at your leisure.
A-Frame Greenhouse Plan
The main crops in here are tomatoes, watermelons, and cucumbers, but you'll also a variety of other things as well. Something new for my greenhouse this year is pumpkins. I'm going to try to grow a giant pumpkin or two inside my greenhouse. I'm also going to try raspberries in my greenhouse to see if I can extend their season. The blank plot in the upper left corner is where I'm going to plan a mini-replica of my main outdoor garden just to compare how the plants grow differently in the greenhouse.
Just a note about the "Phil's Strawberries": Those are a type of strawberry that I'm getting from my brother Phil who is a u-pick fruit grower. I'm not sure exactly what type they are.
Experimental Straw Garden Plans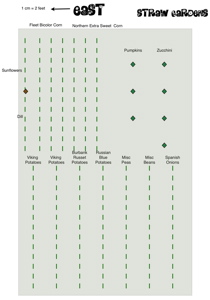 This garden was all sod last fall. Half of it was tilled and half was left as sod. Then I covered the entire plot in a thick layer of old hay. I'm going to try mostly potatoes, corn, pumpkins, and zucchini in this plot, but I'll give a few other things a try too.
Hopefully, as the hay rots and decomposes, the plants can grow up in a weed-free, moist environment. Of course, this is all theory and I haven't seen it work before. But it's surely worth a try.
If you've tried something like this before – send me your comments! I'd love to hear from you!
Main Garden Plot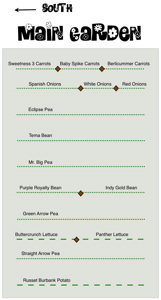 This is where I'm planting the crops I must get good results from. No experimentation here. Thus, I'm planting mainly peas, beans, carrots, and onions. (Store-bought peas and carrots are terrible counterfeits of the real things.) I am trying out a couple new varieties, but I'm keeping the old faithful ones.
The only thing I don't have here is my square-foot gardens (which I haven't planned yet – and likely will just plant them with misc leftover seeds). I'm thinking they will me mostly herbs and flowers.
So what do you think? Are you planting any of the same things? What important stuff am I missing? Lemme know!