Category Archives:
Commentary
With the recent week of -40 degree weather, my thoughts have again turned to straw bale houses. I first discovered these creations a few months ago and was immediately impressed. If you're not familiar with straw bale houses, here's a quick run down.
The main idea is that the walls are not made of lumber, insulation, and gyprock. Instead there is a wood frame that is filled with straw bales and covered in plaster.
Taken from http://www.flickr.com/photos/bluearc21/5036084/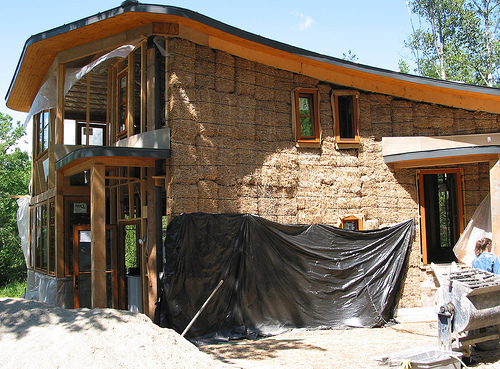 Taken from http://www.flickr.com/photos/[email protected]/304363867/
The main benefit of this type of structure is the amazing insulation that the straw bales provide. My house (where the temperature with the wind chill has reached -47 degrees this week) has R-20 in my walls. Straw bales would provide an insulation value of R-50 to R-60.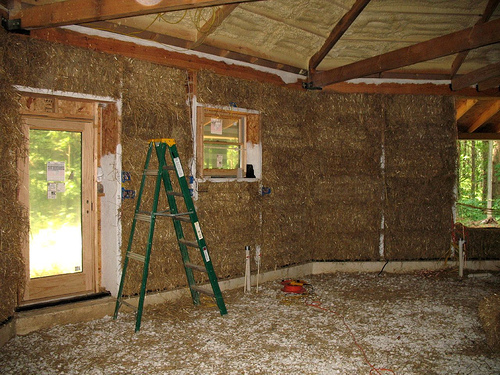 Taken from http://www.flickr.com/photos/indigo100966/1856700319/
According to Strawbale.com, the energy savings of a straw bale house is about 75% over a traditional stick frame home. What that means in dollars and cents is this: Last year my heating bill was $778. If I had the same house, but built out of straw bales, my heating cost would have only been $194. That's pretty impressive.
Taken from http://www.flickr.com/photos/[email protected]/472853961/
I love the sunken window and door frames, the rounded corners, and the imperfect surface.
If I build any major buildings in the future, I would love to build a straw bale structure. And of course, if I do, you'll be the first to know!
This Christmas I was inspired to plant a tree. Maybe two. Maybe even a hundred.
You see, I had the opportunity to spend Christmas in Yuma, Arizona with my wife's family. Her Grandmother snowbirds down there and has a lovely little lot in the foothills. While I was there, I did two things that I never could have done at home.
#1. I picked oranges.
About 20 years ago, when my wife's grandparents purchased their lot, her Grandfather planted some orange, lemon, and grapefruit seedlings. Today those seedlings are 20 foot trees loaded with fruit. Each morning I was able to pick an orange right off the tree for breakfast, and for lunch I could squeeze some fresh lemonade. What a treat!